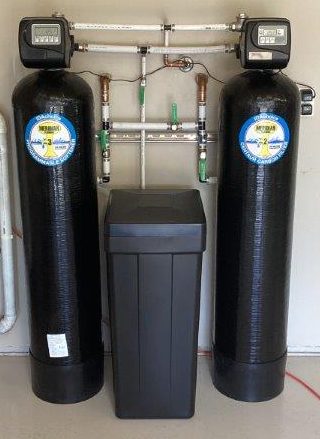 What is "hard" water?
Minerals in water are what makes your water "hard" – most commonly these minerals are calcium and magnesium. These minerals can cause build-up in your plumbing, in your appliances, and on finish surfaces as well as your dishes. You can often see this build-up on shower heads and other home appliances.
Chlorine
The Treasure Valley's municipal city water sources use chlorine as part of the treatment and water reclamation process.  Your chlorine levels will fluctuate depending on the frequency of when the chlorine is added and the distance you are away from the source. Chlorine is arguably harder on gaskets, cartridges, and other plumbing materials than hard water and can be less enjoyable to drink. Chlorine will also shorten the life and efficiency of the resin used in a water softener.
What do I do?
Meridian Plumbing uses top-quality, easy-to-use programmable water softeners and whole house carbon filtration to remove minerals and chlorine form your water. Your appliances, plumbing, and glassware will love you for it! Meridian Plumbing uses our own IdaChoice treatment systems in all of our installs and upgrades. 
Meridian Plumbing is the water treatment specialist.
 IDACHOICE SEDIMENT FILTER – Remove sediment greater than 50 microns before it gets to your pipes and appliances.  Affordable filter easily changed as often as needed.
 IDACHOICE CENTAUR CARBON FILTER – Remove the chlorine, protect your plumbing fixtures, and enjoy drinking tap water again.

 IDACHOICE PROGRAMMABLE SOFTENER

 – Remove minerals before they get to your appliances and stain glassware and finish surfaces.
Other water treatment options can be provided for well water treatment if needed. We start with a well water test so we can be sure to know what needs to be treated before providing options.